Finally, after a decade of being in the Marvel Cinematic Universe, Black Widow is finally getting her own standalone movie. However, there is more to cheer about the upcoming Marvel flick than just that. Recent reports are revealing that Robert Downey Jr. will most probably be making a cameo in the movie as everyone's favorite billionaire, Tony Stark.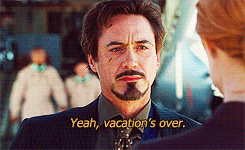 Scarlett Johansson will be reprising her role as Black Widow, with David Harbour suiting up as Russia's version of Captain America, Red Guardian. Rachel Weisz and Florence Pugh will also appear in the movie as other Black Widow agents. Taskmaster will be the main villain of the story. With his ability to quickly observe and copy any person's fighting style, he is meant to become a formidable foe for Black Widow.
Not much information about Downey Jr.'s return is mentioned by the studios, which makes fans wonder whether if it will be just Marvel reusing their old clips or an actual cameo. It won't be a surprise if Marvel is using old footage instead of filming a new scene. They have already done it many times in the past. The continuing tradition of a Stan Lee cameo in every Marvel movie even after the legendary comic-book creator's death is a perfect example for this.
If in fact, he is reprising the role, then it's most likely be for just a cameo or a very minor role. The Black Widow footage screened at Comic-Con used a clip of Tony from Civil War, warning Natasha "They're coming for you," before leading into new footage from the film. The footage also revealed the time period of the movie to be when she was hiding from the United Nations. So, there is a possibility that she may seek out Tony's help or at least contact him during the course of the movie.
Whatever the reason for Downey Jr. potentially reprising his role, it will surely be awesome to see Stark back on-screen on more time. Unfortunately, we will have to wait some more time before anything official is be announced publicly.