Romantic films are a go-to when you feel down or bored and need a lift from an exhausting day. You may not prefer one at all times but there are moments when you simply need to feel love. But amongst so many options staring right back at you, how do you choose the best ones.
We have done the weight lifting for you. Here are 8 classic romance stories you can watch when you are feeling absolutely jaded.
Eternal Sunshine of the Spotless Mind (2004)
A poignant account from the lives of Clementine (Kate Winslet) and Joel (Jim Carrey) wherein the couple willingly goes through a procedure of wiping off each other's memories. As the story builds up, one finds it hard to not become emotionally involved as it progresses.
About Time (2013)
What would you do if you had the power to travel in time? Change history? Prevent the Holocaust? Well, Tim Lake is not interested in being a part of something big. All he wants is a girlfriend. The makers of Love Actually have gone a step ahead and given their protagonist a superpower to captivate his love interest Mary (Rachel McAdams). All in all, it is a nicely written romantic comedy to watch when you are bored.
The Notebook (2004)
This particular film is adored by women all over especially for the utterly congenial characters played by Rache McAdams (Allie) and the dreamboat, Ryan Gosling (Noah). Not all love stories can stand the test of time but this one does through all its trials and tribulations. McAdams and Gosling phenomenally land as Allie and Noah in this cheesy yet heartwarming account of love.
Love and Basketball (2000)
Set in the backdrop of the basketball theme, this film enchants the male audience as much as the female for obvious reasons. What begins as a love-hate relationship between Quincy and Monica, progresses into a mature story of two dreamers chasing their passion while continually crossing paths. This movie is highly recommended to the young audience who loves sports.
Cactus Flower (1969)
A complicated yet heart-winning love story between a 21-year-old woman and an older man went on to help Goldie Hawn an Oscar for her portrayal as Toni Simmons. Hawn has her way through wit and charm and that is exactly what makes you fall in love with her.
Lost in Translation (2004)
The crux of the story is the classic romance between Bob Harris (Bill Murray) and Charlotte (Scarlett Johansson). It could be characterized as a miserable account of two individuals caught up by accident in a totally unfamiliar set up.  There are ephemeral moments where Anna Farris lightens up the mood with her spoofs. But then what did Bob whisper in Charlotte's ear before saying goodbye?
When in Rome (2010)
This classic Valentine story is supposedly one of the most iconic roles of Kristen Bell. Bell visits Italy for her sister's wedding where she steals coins from a fountain. In reconciliation, to her theft, she is hunted down by Danny DeVito, Will Arnett, Jon Heder, and Dax Shepard, who are apparently under a love spell. The film is hilarious and definitely recommended for the days when you are feeling blue.
50 First Dates (2004)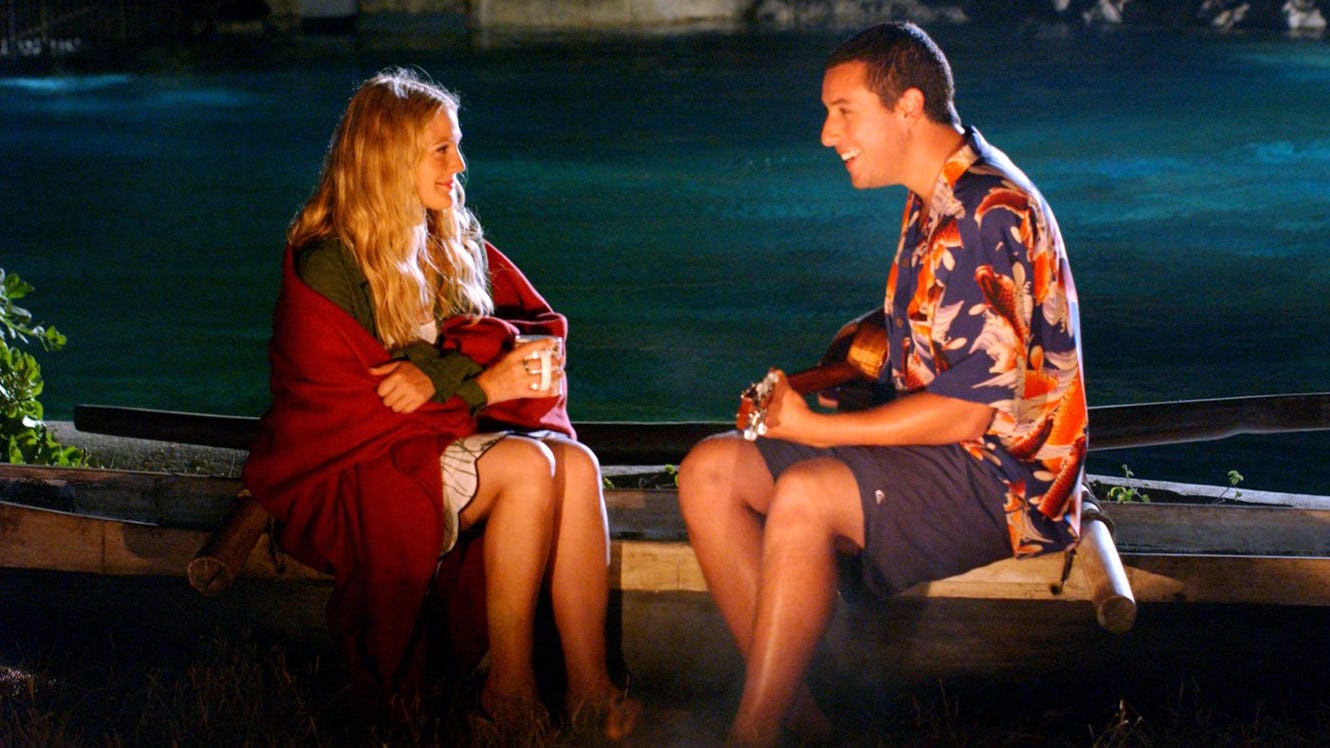 You cannot really come up with a more adorable onscreen couple than Adam Sadler and Drew Barrymore. So the premise goes like this. Adam Sandler transforms from a playboy to a man of commitment for a girl who has short term memory. Since an accident, she wakes up each morning and lives the same day over and over. It's funny, romantic and a classic chick flick for all romance buffs.